Profitability of a Mineral Water Plant
All the time, we call it "Mineral Water Plant", it is actually "Packaged Drinking Water" most of the times. As there are many major differences between these two. There is a regulating body, the B.I.S., which controls & monitors the quality of the water produced from every plant in India. You will the I.S.I. Mark mentioned on every bottle in India. Report to the BIS, if you find this mark not visible on a bottle.
There is a difference between a Mineral Water Plant & a Packaged Drinking Plant as far as the profitability is concerned, as the end prices vary. If we talk about the B.I.S. context, there are currently appx 25 Plants which produce and sell "Packaged Natural Mineral Water" and over 5,000 plants for "Packaged Drinking Water". The selling rates differ. For this article, and as a general guideline, we shall talk on "Packaged Drinking Water".
The M.R.P. for Packaged Drinking Water
Currently, Packaged Drinking Water is sold at Rs.20/- average all over India. This price is the M.R.P. Maximum Retail Price.It includes all costs involved till it reaches the Consumer. Figure below explains The costs involved :-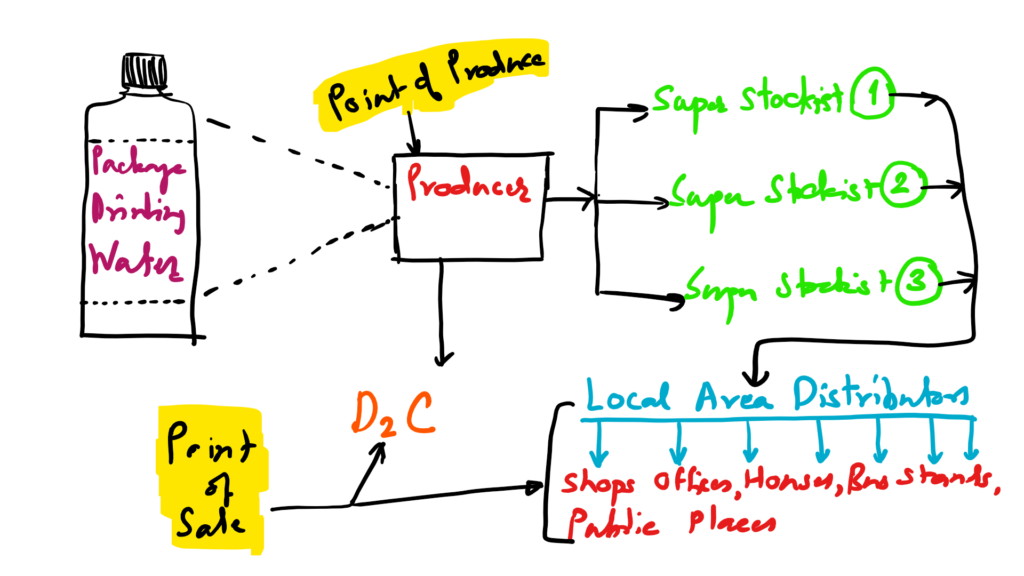 The Figure explains Mineral Water Distribution in India. Kindly note that, the cost is different for each point. The M.R.P. is at the Point of Sale. The Price to a Super Stockist (Usually for a city) , is decided by the producer, the plant owner. Even the End Price, the M.R.P. is also decided by the producer, the plant owner. The Super Stockist decides the price to the local area distributors. D2C is "Direct to Consumer", which is also gaining momentum now, where the producer omits all the other stpes and sells to the consumer directly. We explain this under a special session in our training, called "Smart Marketing".
M.R.P. defines your gross earning per bottle, not your R.O.I.
To prepare your business strategy, the M.R.P. can be indicative; but don't commit a mistake to calculate your earning , R.O.I. straight from that. On the outset, Mineral Water Business IS profitable, as there is a growing demand of "Pure Water"; you don't need to be an expert to know this. But to make Your Mineral Water Business profitable, you need to draw a perfect business strategy & planning suitable for Your Business. You can read a special article we have written on Mineral Water Profit Margin for details.
#Listen to the Audio Interview of a Business Coach who has shared his views on how to create your Business Plans.
Should You Go for Mineral Water Business ?
If you think that there is enough opportunity in the Mineral Water Business, you are right. You should go for a Mineral Water Business. And that too, with proper and a professional way, without repeating the mistakes which the failed entrepreneurs have made in past. Let's take those as reference examples & create a very profitable Mineral Water Business.
(You can also look at some discussion going on this subject on Quora as well)
Where to Begin ?
Why not start by learning the basics of the business from the people who have already had an experience of more than 15 years in the field, and who are keen to create Successful Mineral Water Businesses ? Yes, at Mineral Water Project Information, we focus on creating Successful Mineral Water Entrepreneurs through Training Sessions by educating them on various aspects like :-
Why Mineral Water Business, Opportunities, Challenges
Type of Business Models, Attributes of each Model : Own Produce, Distributor, Franchise, Third Party etc.
Profit Margin & Comparison across major models
How to Define Machinery to Suppliers & Decide Specifications
How Can You be different by Smart Marketing Techniques
A little about Us …
We have been doing this from 2015, and going deeper and deeper now. You can watch a video on the history of the trainings, read the About Us section, on who we are, and read Reviews from the past attendees. And can still shoot questions or comments. You can always write to us through the Contact Us Page