What Machinery is Required for a Mineral Water Plant ?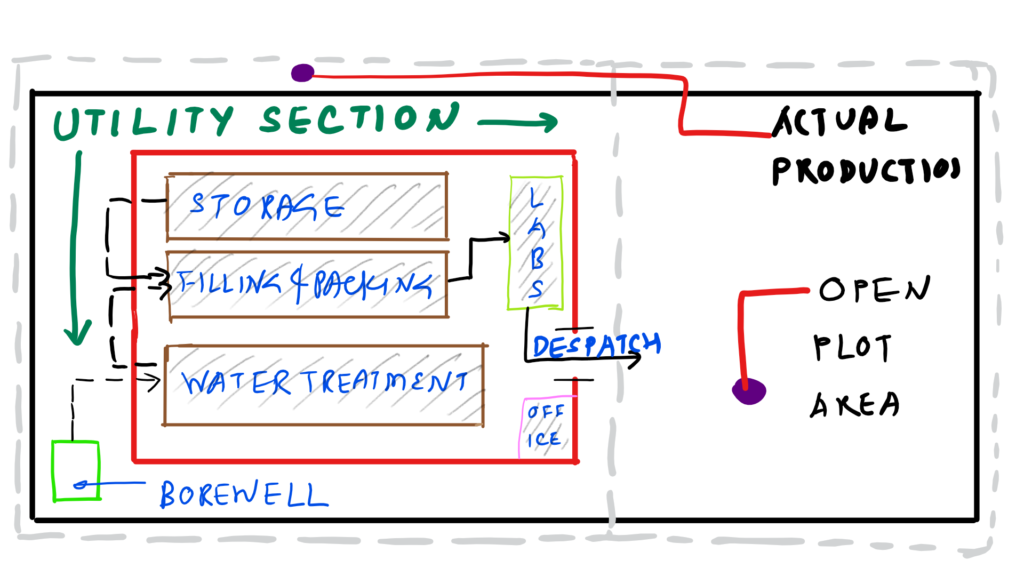 Mineral Water Plant Machinery can be divided into 4 major sections
| Sr No | Section Name | Purpose | Machinery Involved |
| --- | --- | --- | --- |
| 1 | Water Treatment | Treatment & Purification of the Raw (Source) Water to the desired level of Purity | Pre Filtration, RO Membrane & Final Filtration, Post Filtration |
| 2 | Bottling & Packaging | Packaging the Processed Water into the Containers like Bottles, Jars etc. | Blowing Set-up, Filling Machines, Labeling Machine, Batch Coding, Shrink Packing, Box Taping Machinery |
| 3 | Laboratory | Maintaining the Quality and compliance as per the B.I.S. rules | Microbiological & Chemical Lab Setup as per the B.I.S. Requirement |
| 4 | Utilities | Running the Plant & Machinery | Electricity, Generators, Compressors etc. |
Let's discuss these Sections one by one :-
Water Treatment Section :
Water Treatment Section is meant for Conversion of your Raw Water (Source Water) into the desired level of purity you want. Typically, an entrepreneur has some kind of imagination in his mind, as to what will be his water be like. Will it be like Bisleri ?, or Kinley , or any purity of his choice. One thing he or she should not forget, that there should be some purity measure & taste as well. For example, if he/she wants a 75 TDS water, this water treatment section will house all the machinery needed to produce it from the raw water available. For reading regarding the water source, I suggest you to kindly read an other article on this . Typically, the machinery are :-
Pre Treatment Section Sand,Carbon, Micro Filters :- To filter out physical impurities
RO Membrane Filter :- To filter water to the finest level
Post Filtration :- To make the water blend as you require
Filling & Packing Machines
Typically, this Section consists of the following machinery :-
Bottle Blowing Machinery Setup :- To Make your Bottle Yourself #
Bottle , Jar, Pouches Filling Machine : Rinsing, Filling & Capping Machinery
Batch Coding Machine
Labeling Machine :- Shrink or BOPP Labeling
Boxing or Shrink Wrapping Machine :- Final Packaging Machinery
(Why a mineral water producer needs to make his own bottle ,when similar pharma producers are procuring from outside ? :- We cover this specially in our training)
Laboratories
There is a governing body in India for monitoring strict quality control of the produced water. It is called the B.I.S. which issues the ISI License to the Mineral Water Plants , which are called the "Packaged Drinking Water Plants". They all bear the standard IS-14543, laid down by the B.I.S. As per their rules and regulations, every packaging must go under certain processes & there is a test norm set for every produce.
Some of the tests are to be carried out daily, while some are weekly & monthly. As a Plant owner, you are required to keep a record of every test, and submit the same to the B.I.S as per their stipulated schedule. To major kind of tests needed : Chemical & Microbial. For both of these, 2 separate labs need to be setup within the premises with 2 separate chemists appointed permanently.
As a business owner, you need to hire right consultants for this project, who will take care to educate you and your staff members about this aspect. During our training, we conduct a small session which highlights on how to use the BIS site & also give you the major documents pertaining to the same.
As a Consultant, we also take care to train your chemists for proper operation, query handling during the BIS visit & various such aspects. For labs, 2 major Labs need to be setup :-
Chemical Lab
Microbiological Lab
Utilities
Utilities are the equipments which are required not directly, but indirectly for the production. They typically include :-
Compressors
Electrical Installation
Air Conditioners
Generators
(You can refer to my old (2014) upload on Slideshare to get more details of the machinery, however, recommend you to attend our training session to stay current)
Where do you get the machinery from ?
There are huge number suppliers for machinery. If you just Google on this or visit Indiamart, Trade India or Alibaba.com, you will find them. The internet has advanced so much that, you can even get completely filtered information as to what price one is selling at and you can also prioritize them, shortlist them. Still, the problem remains. Whom to go to !
The problem with the Industrial Directories on Internet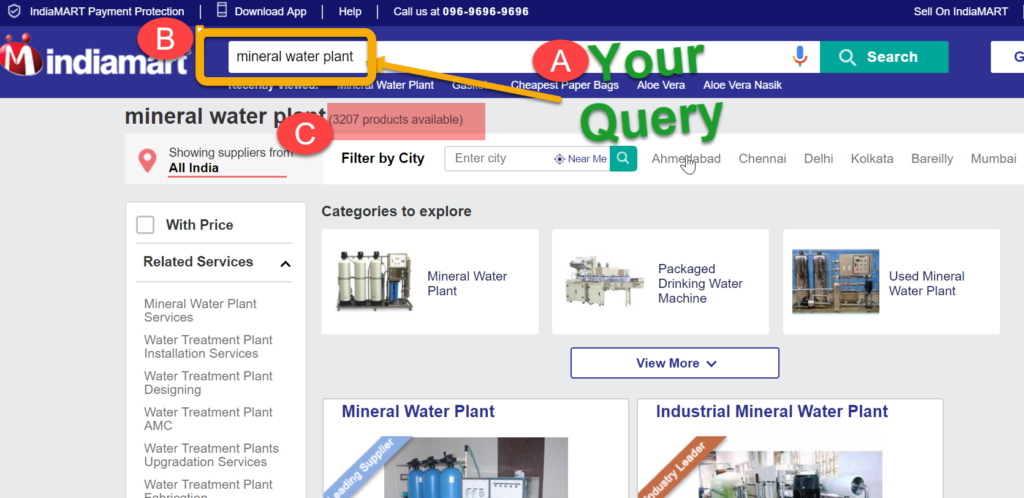 One gets more & more confused with more & more information available to them. Because there are huge number of listings, some on the upper portion, some on lower. And it's not a secret that these companies (the listing directories) push those who pay them more. This is not a qualititive process at all. The directory companies do a lot of promotion, paid ads on Google, do smart SEO & become visible. But this does not assure you are going to a right supplier.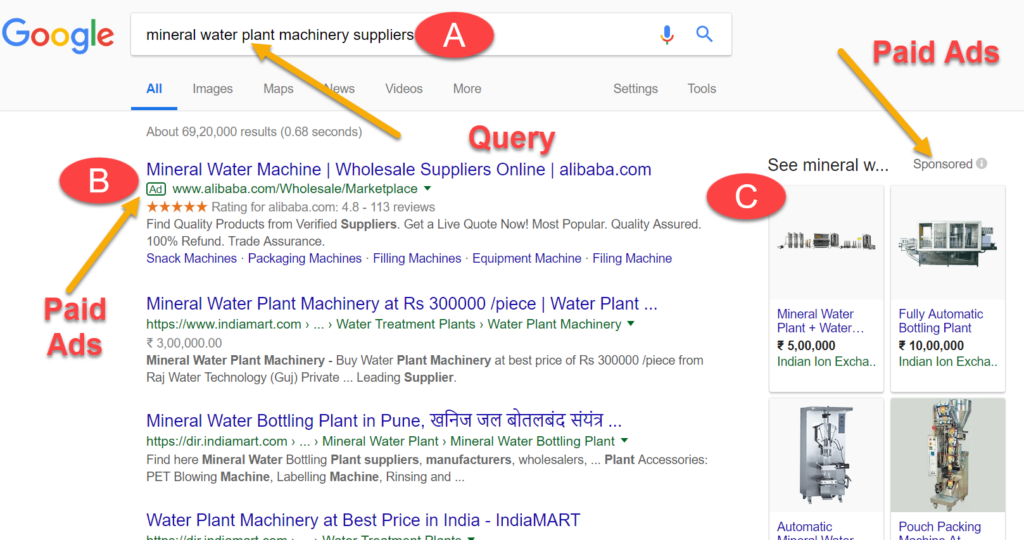 Google also can't be an assured source
Agreed, Google doesn't push those who just pay them more; there is a qualititive process even when you advertise with google on paid basis; still it qualifies only to get proper information. In other words, if you learn the smart techniques of Google Ads, or hire a smart person, you can also be on top. Google is concerned with the information which YOU provide them. And then they compare with others who also might be doing those exact things you are doing to win the top spot. And then Google does the Bidding system. This is good. For Google. This need not be the best thing for an entrepreneur willing to start his Mineral Water Plant, and looking for a Machinery supplier.
Machinery Supplier referred by a friend
This looks like a better choice compared to the above ones. Still, I suggest you should look at the market for better options. Who knows, you will spot someone better , suiting to your requirements, may be little more economical, and having a better rapport with you ! Worse comes to worst, you can always negotiate better with the referred supplier if you are ready with your market study of other suppliers.
Do Your Own Study First & Then Find Suppliers
The very 1st step in this is Knowing exactly what you need. Here you need to to know what will be the Market Demand, How much is the competition, your proposed Business Plan etc. Once this is done, you need to make a tentative Production Plan , and make a complete list of machinery required. Then you can ask for the machinery suiting to your requirement. From various suppliers and make your comparisons, and take a conscious decision about the suppliers for your Mineral water Project.
During our Live Training Sessions, we conduct special sessions on
How to decide your Product Mix by doing a Market Survey
How to design your Mineral Water Plant
How to specify Machinery to suppliers
How to do smart marketing to outcast the competition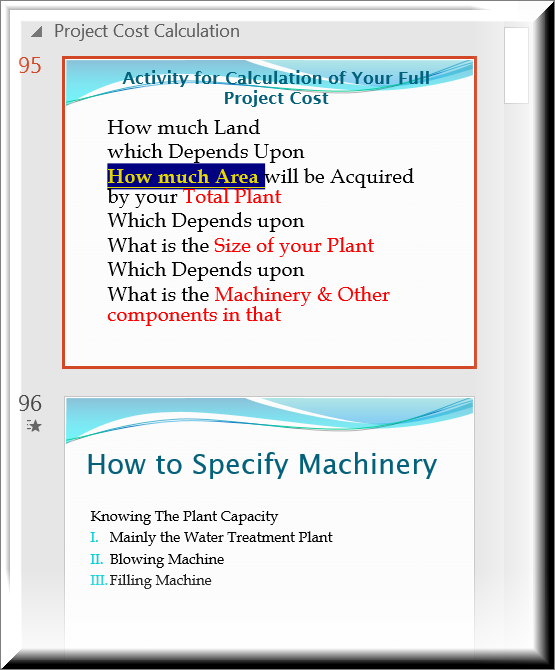 You can refer to the Details of the Live Training.
Once you are through with your own study, you are clear with what you want. This is the starting point of everything to go right. You can assume you are on your path to appoint RIGHT suppliers for your plant.Even we also help you in this. We also consult the entrepreneurs to find out the best suppliers.