Mineral Water Plant Live Training
Mineral Water Project Information is the flagship training created for Mineral Water Plant Aspirants. It is specially created for those Businessmen-Entrepreneurs who are willing to study the whole business before they actually venture into this field.
Focus of the Training
Our focus is mainly on Creation of a solid enterprise which will be sustainable, profit making, and still contributing to the great cause of offering the best quality water to the consumers. Keeping an eye on this, we have created the content focused on the Entrepreneurial part dominantly. Just have a look at the About Us : About Mineral Water Project Information.
You Will Get Answers 1-2-1 on Following Questions…
First of All, we understand that you are as a businessman, or a "would be" businessman. Hence, we have made every attempt to answer all the questions coming to your mind like…

Is it worthwhile to start a plant?
Is the business really profitable ?
Can it survive, in spite of so much competition around ?
If you have understood what's the investment like, but what is the first step?
What will be the size of Plant, where do you start ?
Many machine suppliers are around, how to choose the best from those ?
Is ISI really required?
How Much is the minimum Investment ?
What will be the Land Area required ?
Which Documents are necessary for a Mineral Water Plant ?
How to prepare the Mineral Water Plant Layout ?
What about Working Capital ?
We offer you support even after the Training is Over …
The training is a more of a Concept clearance to Facts realization kind. Hence it is expected that the candidates still are left with many doubts in their minds. We do offer you support through email for the LIFETIME for free.
Agreed, we too are human beings, and can't get you answers for everything; however, shall definitely get you nearer to the answers or can point you to experts who can help you !
Furthermore, just imagine any question other than these, we have answers for you. Just Check the Training Session Details below & join the next training.
Next 2 Days Training ( 27,28 April 2019) PUNE

Training Details :
Total Days of this Training : 2 Days
Place of Training : Usually Pune , unless otherwise mentioned.
Max No. of Participants : Upto 5 (We also conduct for 1 person, never cancel dates when declared)
Frequency : Twice a month
Days : Saturday & Sunday (11 am to 5 pm), 2 Days total duration
Target Group : Aspiring Entrepreneurs in Mineral Water Plant Business.
Details of the Topics Covered : Just Scroll Below to get them.
Training Fees : Rs. 20,000/- (Rs. 18,000 for Early Bird)
Date: 27th & 28th April 2019 At -Pune.
Next Date : 5th May 2019 At- Delhi. ( 1 Day )
How to Attend :- Just call us at 9822478111, we shall tell you the procedure.
(You can refer to the F.A.Q. page for questions related to other things in the training)
You can check The Reviews for Past Training Sessions


Next 1 Day Training (5th May 2019) Delhi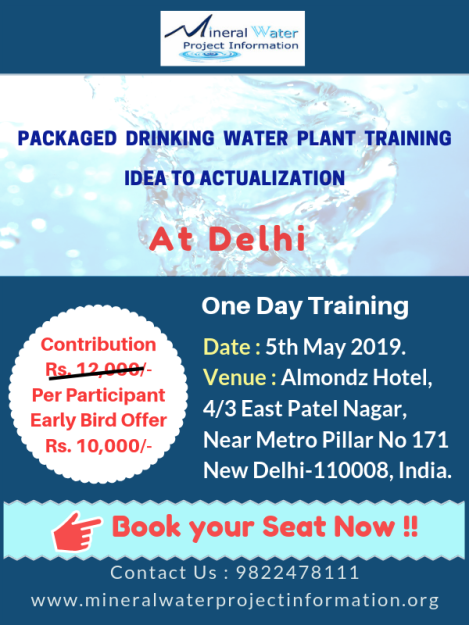 Training Details :
Total Day of this Training : 1 Days
Place of Training : At- Delhi
Max No. of Participants : Max 10
Days : Usually Sunday
Target Group : Aspiring Entrepreneurs in Mineral Water Plant Business.
Details of the Topics Covered : Just Scroll Below to get them.
Training Fees : Rs. 12,000/- (Rs. 10,000 for Early Bird)
Date: 5th May 2019 At -Delhi.
How to Attend :- Just call us at 9822478111, we shall tell you the procedure.
(You can refer to the F.A.Q. page for questions related to other things in the training)
You can check The Reviews for Past Training Sessions